So as you all know my blog has been acting a little crazy recently. None of you can see any of the old comments, but trust me I can still see them. I had about 15 people enter (through comments and emails) the
What's for Dinner Contest!
and OMG! those were some DELICIOUS recipes. Seriously, they were all good. Some were super simple, which was really nice on the nights that I really didn't want to cook in the first place. Others took a little more planning, but was well worth it in the end. I will be honest and admit that didn't cook 2 of the recipes. While I am SURE they were delicious, they just weren't OUR style. So with out further delay, the winner is......
Stacie from "Well-Behaved Women Rarely Make History"
She sent me an email with this awesome recipe
Slow Cooker Buffalo Chicken Sandwiches.
I can not explain to you how good these were. I hate spicy food, but you can control the spice in this by picking a mild sauce. They were so easy, and I put the chicken straight out of the freezer into the crockpot. All I had to do was add sauces, turn it on, and walked away. I cooked the entire meal while holding London on my hip. When it came time to eat, I just added some jack cheese and smothered it in ranch dressing, that I made it with the other half of the ranch mix. I served it with some potato salad that I bought at Publix, and some peas just to have something green. Mike loved this and so did I. It was a very unanimous decision. The recipe says it serves 6 so I was hesitant about making so much since it is just the two of us. However by dinner the following night it was almost all gone. Here is a little picture for you of the finished product (and it was served on paper plates too, which is always my favorite).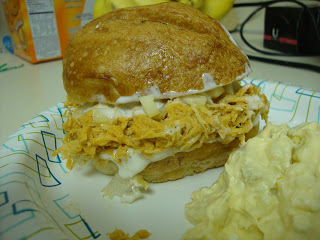 Thanks for all the recipes ladies, they were all amazing! This was a great success, and I am sure I will be doing it again. So make sure to start collecting recipes for next time.