OMG, I have gone almost two months without posting. I'm pretty sure this is a whole new level of "disappearing".
I'm going to admit, I have no drive to blog these days. It's horrible and I wish I was better but so many more things come before my blog right now. Any yes, I'm talking about these two monkeys...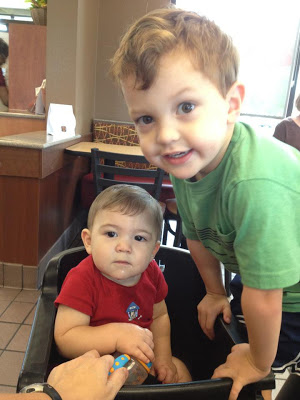 Notice Holden's new haircut!
Before: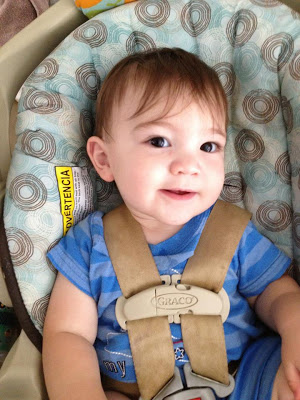 And After: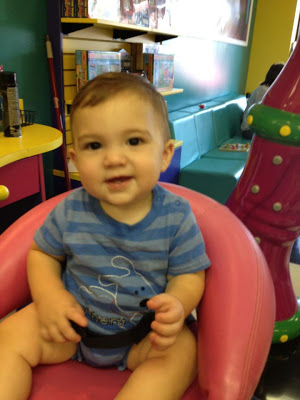 Ugh, he looks like such a big boy!
Here is a little update about Holden, aka: Holdy-Holds, aka: Tootsy Pooter, aka: Toosie. At 9 months old and 20 lbs now, he is all over the place. He is standing on his own, and cruising between furniture. He tries so hard to get up and go with London and frankly gets pretty annoyed when he can't keep up.
He and London are really starting to play together, its so freaking cute. You have to keep an eye on London though, he tends to get pretty rough forgetting that Holden is still a baby. Holden is one tough cookie though and rarely cries. Not a single tear was shed when London left a big bruise on his forehead by throwing a Gerber Puffs container across the room. Who knew a plastic container could be such a dangerous weapon in the hands of a 3 year old.
London is CRAZY as usual and spends most of his days either playing Angry Birds, begging to play Angry Birds, or playing real life Angry birds with his blocks and toy birds. Combine that with his Plants vs Zombie obsession, and we have a real gamer on our hands. I can only imagine how hard it's going to be to pry him away from his games as a teenager. As you can imagine our little trip to Chuckie Cheese was pure heaven for a gamer like him. Although he still made some time for the Monster Truck, he definitely did NOT appreciate me taking pictures of him while he was in it.
These two monkeys have also kept me extremely busy recently...
Here are the twins at 25 weeks.
Greysen Elizabeth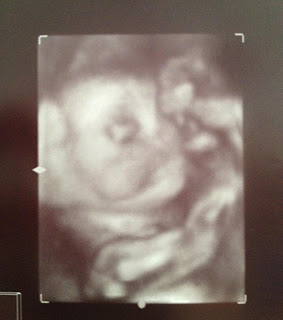 AND
Harper Elliot
(finally she has a middle name)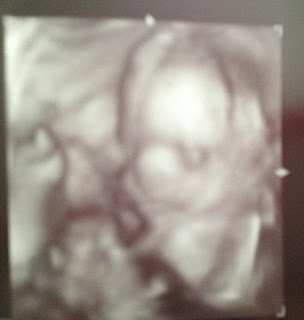 I'm 26 weeks now...and in some ways this pregnancy has been my easiest. But in MOST way this has been the most difficult pregnancy EVER!
Here I was last week.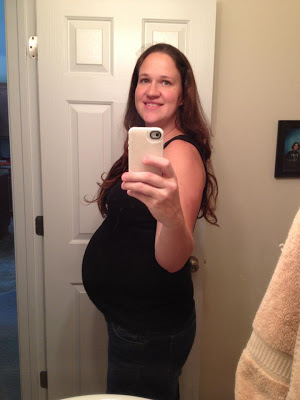 First off the easy parts: NO BED REST!!! (yet!)
While my cervix is measuring short (the main reason I was put on bed rest with Holden), its nothing too drastic and is actually longer than it was last pregnancy. However I think there is an explanation for that. Last pregnancy, I felt great and London and I were trying to keep busy over the summer by almost daily taking trips to the zoo and children's museum. However this pregnancy I can barely walk so needless to say I have been taking it very easy over the last few weeks. I also have not had much preterm labor. By 24 weeks with both boys I had been hospitalized for at least a few days with contractions. Not this time though. Sure I have had some contractions, but nothing some water and laying on my left side can't fix.
The hard parts: I CAN'T FREAKING WALK! I am seriously falling apart. I'm like a 90 year old woman over here. I have Pubic Symphysis Diastasis or in other words my pubic bone/hips feel like they are about to snap in half. Add that to the fact that I get heart burn just from drinking a glass of water. I've also had like 3 or 4 blood vessels in my eyes pop. So I have red eyes and look like I'm stoned half the time. It's pretty awesomeful. I already feel like I'm 35 weeks pregnant, and can barely roll over in the middle of the night. But who needs to roll over when you have to sleep sitting up. UGH!!! Okay I'm done whining (for now)!
Anyway, I'm forgetful and exhausted all the time (Okay so maybe I wasn't done whining) which is why I haven't been posting recently but I'm HOPING to get better about it soon. Oh who am I kidding? I'm about to have 4 kids under 4, and 3 under 1. This is only going to get worse over the next 12 months. I'll do the best I can though. Especially in the up coming weeks as I prepare for the girls arrival.