Wow, this ha been one of my longest blogless stints to date. I'd like to rush back here and tell you its because I have been super busy, but sadly that would be a lie. Thins have been somewhat boring recently, I mean can it really be boring while taking care of the two hoodlums?
Super London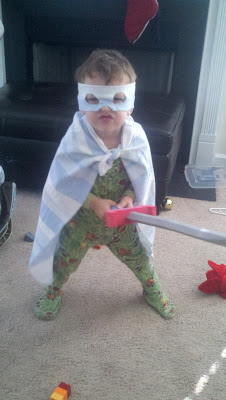 His trusty sidekick (and arch nemesis)
Baby Wonder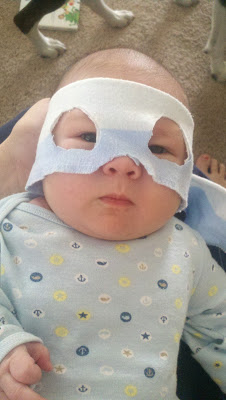 Christmas is almost here! While I have managed to find the time to find the time to finish almost all of my Christmas shopping, I have yet to send out any Christmas Cards. Nothing like waiting until the last minute! Although sadly, it is not all that unusual for me.
Oh...here is a little fun fact, I finally jumped on the bandwagon...ya know if the band wagon hadn't passed by say 4 years ago...and I'm reading the Twilight books. I've watched all the movies, mainly using them as an excuse to get out of the house and sneak some wine into the movie theater. I've not some great tips on that if anyone is interested.
Baby Bottle Cooler Bag with ice packs + Mini Bottles + Red Solo Cup = Getting drunk in the movie theater while drooling over Taylor Lautner. Win-Win, right? I DON'T CARE IF HE WAS ONLY 15 DURING FILMING!!!
Anyway, back to reading...I borrowed my sister nook to try it out and decided to get the first Twilight book. By the next day I had finished and moved on to New Moon. Well here I am a few days later the proud owner of a new nook and engrossed in the Twilight Saga. I just started Eclipse. I'm really looking forward to Breaking Dawn because I have already seen the movie (Part One) and I'm eager to see how this whole "saga" ends. Yep, I'm a dork! Whatev's