Things have been going really well over the last two weeks. Wow, I can hardly believe it has been two weeks already. Man, that sleep deprivation really makes time fly!
In this post I am going to list alot of stats that I'm sure none of you care about. It's mainly for me, so it will probably be boring or the rest of you. I love the fact that I can look back at posts from when London was little and see how Holden compares. :) I'll add a few cute pictures at the bottom for anyone who makes it through all of this.
Over the first week we went to ALOT of Dr's appointments. Poor Baby Holden was jaundice and had to go back 5 times in the first 7 days of life to have blood drawn to check his Bilirubin levels checked. Poor guys his heals look like pin cushions. I felt so bad for him.
Fun fact for all of you, my husband thought we were talking about some guy named Billy Rubin every time I would talk about Holden's levels. HAHA!
Holden's levels stayed elevated for the first few days but never got high enough for him to have to sit under the special light or blanket. It was 10 (whatever the unit of measurement is I have no idea) on day 2, 14 the next day, and by day 6 it was 18. Thankfully by day 8 it was down to 14.
See I told you this was going to be boring. Don't say I didn't warn you!
Thankfully the little guy has been steadily gaining weight. He started out at 7lbs 2oz at birth and was down to 6lbs10oz when we left the hospital. By day 8 though he had gained a fair amount and was weighing in at 7lbs 6 oz. His Dr was very impressed with this so apparently we are doing something right.
Breastfeeding is a little more difficult this time than it was with London. Holden is a really good eater, but something is just off. London was a natural so I'm not quite sure what to do to fix our little problem. Here it is almost 2 weeks since he was born and it still hurts to nurse him. He seems to be latching well, but I think he is biting me. I can promise we will not be making it to a my initial goal of 6 months if he keeps that up. My poor nipples are bruised and it's painful every time he nurses. Nothing unbearable, just not comfortable AT ALL. I still cuss every time he latches hahaha! Hopefully I can find a LLL meeting to attend soon, or possibly call the lactation consultant back and see if she has any suggestions. Something has got to give.
Holden has established a pretty good schedule for himself. I've got my fingers crossed that he keeps it up. Right now, he sleeps most of the day, waking for about 30 mins here and there. Then around 6pm he wakes up for about two and a half hours. He is very content and just chills on the couch next to us in his boppy. About 8:30 is his bed time, so I nurse him and put him in bed..on his back. London was a tummy sleeper so I'm happy Holden seems to be content on his back or side. Through out the night he only wakes about every 4 hours, just long enough to eat and get his diaper changed. He is a really good baby (THUS FAR!! Quick, knock on wood!)
London is actually adjusting very well to being a big brother. He hasn't really been acting out YET, however he doesn't really acknowledge him very much either. He asks about him alot but doesn't want to hold him or even help feed, diaper, bathe, or entertain him. He is however enjoying all of Holden's stuff. His swing and carseat make for some really fun times as far as London is concerned. :) Right now he just sleeps alot, which I guess is pretty boring for a 2 year old.
Oh the best part, London is obsessed with Holden's umbilical stump. It still has not fallen off yet, and it really bothers London that he has an "ouchie." I keep telling him that it doesn't hurt, but he doesn't believe me. So every time I change Holden's diaper, London runs over and says "Is it gone yet?" and then freaks out when I put alcohol on it. "Don't touch it Mommy!!" HAHA! It's actually pretty cute :)
Ok that is enough documenting for today. Here are a few pictures for those of you who actually read all of that!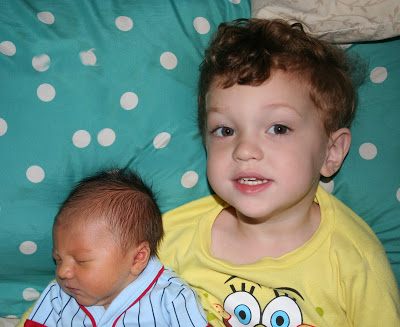 One of the only times we've got London to "hold" him.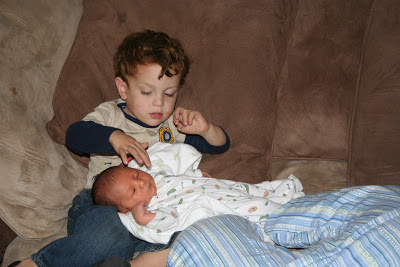 Smiling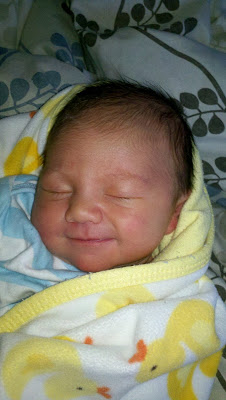 Nap Time!