So when the girls were in the womb, it appeared they were fraternal twins. They were Di/Di, which basically just means they had two separate sacks and two separate placentas. Most twins that present as di/di are fraternal, but there is still about a 20% chance they could be identical. It all just depends on when that magical embryo splits. And for all of you non-zygosity savvy folks out there, let me break it down.
Fraternal twins: two different eggs and two different sperm, thus two totally different embryos.
Identical twins: one egg and one sperm that splits into two embryos.
Are you with me so far? Because here's where it gets confusing.
It's all about WHEN the embryo splits!!!!
Most of the time with identical twins the embryo implants ...and then divides. Thus why most identicals are in the same sack. I'm not even going to go into all the craziness behind shared placentas so for now let's just stick to the sack. (I know, I know....'that's what she said').
If the embryo splits before it implants in the uterus, the two newly split embryos implant separately. Thus two separate Sacks.
Okay, I think that all made sense! Maybe?!?
So now that brings us to my girls.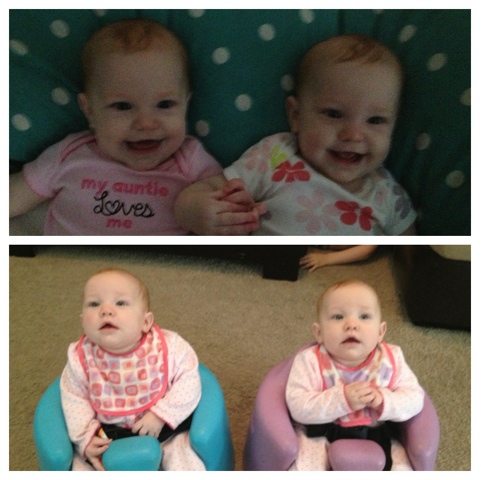 We definitely had our doubts once we saw they even had the same blood type.
Because I NEEDED to know...Yes, it was a need!!!! We forked out the moola and had them DNA tested and........
My Mom was right...and I was wrong.
THEY ARE IDENTICAL !
Even though sometimes, they look NOTHING alike