Actually Holden is 6 weeks old but he didn't get to his one month well baby check up until yesterday.
"Well baby" check up right? WRONG!!!!
For the last few days Holden has been going through a phase where he never wants to be put down. He is also exceptionally cranky every night from about 4-8pm. I really didn't think too much about it because I remember when London did this. I even wrote about it
HERE
. I just assumed that Holden was going through the same phase.
Yesterday while at the Doctor, I mentioned his new found crankiness and that he still had a snotty nose left over from
his cold.
She looked him over and when it came time to check his ears we found the culprit. He has an ear infection. Poor guy!
So we left his "well baby" check up with his very first script for antibiotics. FABULOUS!!
Besides that his one month, actually six week stats are 21 inches long (up from 18.5 at birth) and 11lbs 3oz (up from 7lbs 2oz) at birth. Both of which are in the 50th percentile for his age. Wooohoo! for being average :)
I better get to bed, little man is still waking up every 3 hours to eat, I'm really hoping that changes as he starts feeling better. What I wouldn't give for 4-5 hours of uninterrupted sleep.
Here is a picture of Holden at one month old, and just for fun here is a picture of London at the same age. So far they look NOTHING alike.
Holden
London
And a picture of the boys from today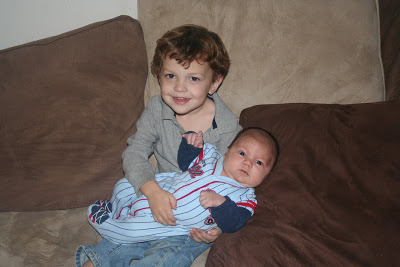 PS. How cute is my new Christmas Design? You can get a custom holiday design too. We are also running a 20% off blog design packages right now INCLUDING gift certificates.
Go check it out.
Ending shameless plug now. :)