Finally I have a moment to sit down and actually update my blog.
Let's see, where to start?
Ok so last week we had a our Nuchal translucency screening for Down Syndrome and Trisomy 18. We had an hour long meeting with a genetic counselor. She was very informative and gave Mike and I a lot of
scary
good information about genetic abnormalities.I'm still not quite sure why they had us see a genetic counselor since we have no major risk factors. I guess they have everyone do it.
After that we had the ultrasound and blood work portion of the screening. The tech asked me if a student could sit in on the ultrasound. I of course said yes, and I am so happy I did. It was the best ultrasound I have ever had!! The tech kept teaching the student and it was so fun to learn along with her. After about 45 mins she switched to 3d and 4d. IT WAS AWESOME!! She gave us a TON of pictures. I will admit that it was a little odd when she kept talking in a baby voice to the baby and referring to it as " 'Tinky Poo Poo" but all and all she was pretty awesome, so I'll let her slide on that one.
The best part, everything looked great. I got our results today and we got a negative result for both Downs Syndrome and Trisomy 18. :) :) :)
Now, I am well aware that you can't definitively tell what gender the baby is at 12 weeks via ultrasound, but that doesn't make it any less fun to guess. I've done my research on
The Angle of the Dangle
and feel I am as good as any trained ultrasound tech out there (note the sarcasm). So my guess for this baby? BOY!! I'll let you guess for yourself though.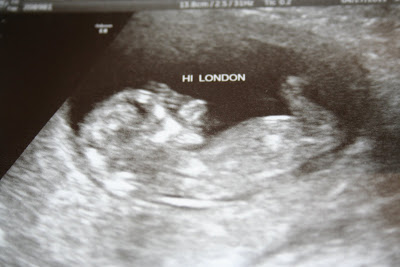 Hand up by face waving to his/her big brother.

Standing on his/her head. Doing a little break dancing.