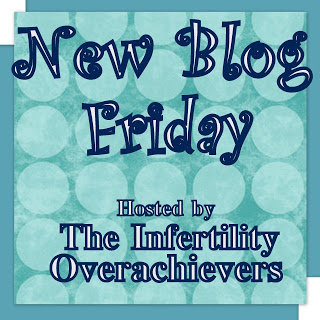 Here is a message from Alissa:
Hello fellow bloggers!
My name is Alissa and I am Infertile. There, I said it. I am not happy about being a member of this group, but I
am
proud to be.
I have found so many amazing women by simply reaching out to blog space and asking for a few ears to listen to my struggles and joys. Starting a blog has been a blessing in many ways, but the people and the support I have gotten has really been the highlight of this hard year. I write for many reasons: my love of the written word, to use as a journal for venting, and to stay connected to those out there who can relate. Because, to be honest, not many people in my life
can
relate.
My husband and I met in high school and managed to stay together through many personal changes and long distance, and because of that, have built a very strong relationship. We got married after many years together (about time!) and subconsciously went about doing things in the "right" order. We finished school, moved in together as a married couple (not that we have any problem with pre-marital cohabitation), acquired the trial puppy, and moved to a duplex with an extra room.
First comes love, then comes marriage, then comes......hmmm.....my period many times over.
Yep, infertility struck when we had finally decided it was the perfect time for babies. We had been together a long time by now (10 years) and we had done some of the things you would want to be able to do as a single couple. In our minds, it was time to spread the love. After a year and a half of test after test, ultrasounds galore, 4 rounds of
fertility medication
, and one IUI, I am no closer to being a mommy than I was when I was on birth control. PCOS has really done a number on my body and state of mind. I won't go into all the symptoms or the not-so-amazing side effects of Metformin, but to say that it's been quite a ride so far.
There have been excited highs and bitter lows along the way. I am perpetually stuck in a waiting game that hasn't yet given me the news I so long for. I know it's a matter of time and patience and I am willing to give that, but I would be lying if I didn't say that I believed it was time for me. That I have given myself every possible advantage and done everything the doctors have told me I should do, and feel that I would be able to give a child a good home. It's MY time to feel the kick of a growing child and to experience the love that only comes from parenting...I truly believe it's time. So to know this with all your heart and to be let down each cycle has taken a toll.
I know that I will continue on because that is my nature. I know that I am going to find a way to conceive
somehow.
I just don't quite know how to deal with all the setbacks as they come hurtling toward me. That's where my husband excels and that's where you come in. I am thankful to have you on my side and to know I am not alone in this. In a time so full of uncertainties, I can at least believe in that.
You can visit me over at
http://missconception-ads.blogspot.com/
- I love meeting new friends and would be grateful for words of encouragement and a little distraction.
Infertily yours, Alissa
Go visit her blog and show her some support by leaving a comment and/or becoming a follower as she just recently got a BFN on her last cycle. :( Unfortunately we have all been there too?