AKA: Crappity Crap Crap!!
Last week I woke up expecting a happy almost three year old who has gone to sleep with ZERO problems AND sleeps 13+ hours a night since he was 9 months old. Seriously, in the last 2 years London has only woken up 3 times in the middle of the night. He is the worlds BEST sleeper. He asks to go to bed every night and if he doesn't have a nap he clings to he baby gate begging to go to bed at about 6:45pm. I HAVE BEEN BLESSED!
CHECK!!! (No London's sleeping habits have nothing to do with this post, I was just bragging by telling you how awesome he sleeps.)
Next I woke up to a 3 month old BARKING at me. It sounded like nothing I had ever heard before. He didn't really have a runny nose, but he was definitely congested. A quick check of his temperature confirmed my fears, and after a not so brief but very entertaining stop at the circus (yes, I said circus...and yes we already had tickets for the day time show, a little fever is nothing some Pedia Care acetaminophen can't fix) we headed to the Dr's office. It was Friday so I figured we better hit up the Dr or else brave the weekend with a sick baby.
20 minutes and a negative RSV test later, his diagnosis was Croup. Dr S told me rom the moment she walked in the room and heard Holden barking, that she had no doubt it was croup, but she wanted to make sure there was no RSV involved.
We were send home on acetaminophen and a prescription for steroids. Have any of you ever seen a 3 month old with roid rages? Well I have it and it SUCKS!!
To understand this you need a little back story. My oldest sister has some health problems. Mainly asthma mixed with a fun concoction of every other problem you can imagine. Every so often she gets sent to the hospital where they pump her FULL of steroids and send her home. She spends the rest of the night cleaning her house. I'm talking DEEP cleaning her house. I would happily eat off her floors with in the week after her release from the hospital.
Anyway, so when my mom mentioned the day after Holden's diagnosis that she couldn't get me on the phone (London had killed it playing Angry Birds) my sisters response was "Of course not! She is sleeping...Holden was up all night cleaning his crib with a toothbrush." And in many ways she was correct.
Holden never slept, and ate nonstop! My nipples were raw for the next few days. Poor kiddo, felt better on the steroids but they made him so irritable. He would be asleep in his bed and just fussing. You could tell that it wasn't his "pain" cry that was making him fuss, he was just mad...and asleep.
Anyway...this is a really long story!
Within about 2 days Holden was 50 times better. I stopped his meds and his attitude improved as well.
Holden is 3 months old.. and he has been sick every 2-3 weeks since birth. Either this kid has the worlds worst immune system OR he has a big brother who is bringing everything home from preschool with him. I'm going with the latter. Hopefully this will be our last visit to the Doctor until the end of Feb and his 4 month appointment.
I'm kinda getting used to this face, so I can't have him getting sick again!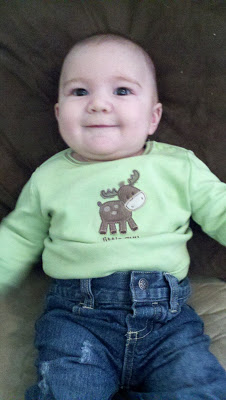 P.S.
PEDIACARE® is running a pretty cool sweeps...
"GET BACK TO HAPPY" SWEEPS KICKS OFF ENTER FOR A CHANCE TO WIN A TRIP TO GREAT WOLF LODGE
® RESORT AND A PEDICARE® "GET BACK TO HAPPY" FAMILY PACK
PediaCare is one of the first brands to adopt a new dosing system for infant acetaminophen products, and now they want to help you get your little one back to feeling happy!
Now through January 31, 2012, enter the
PediaCare "Get Back to Happy" Sweepstakes
for a chance to win one of four fun prizes! One grand prize includes a two-night stay for four (4) at a participating Great Wolf Lodge® resort valued at $1,100, and all winners will receive a PediaCare "Get Back to Happy" Family Pack each valued at $350.
Visit the PediaCare web site, www.pediacare.com or more information about the new acetaminophen dosing changes and a special message from celebrity-pediatrician, Dr. Jim Sears, co-host of the Emmy award-winning medical talk show The Doctors.
*** Look out for a Pedia Care review and giveaway coming up soon***
I was in no way compensated for the P.S. plug! Its a cool opportunity for my readers and if any of you win, I EXPECT you to take me on the trip with you. My kids may or may not be invited to join us based on what kind of day I have had ;)