Since his Dr appointments are running a few weeks behind at this point so are my posts.
Holden had his official 2 month Dr appointment on Monday...He was 11 weeks old.
Holden is getting so stinking big. I know everyone says that and I will probably start every post off like that for the next year or so, but IT'S TRUE!
He is really starting to sleep well at night. He goes down at around 9:30pm and sleeps until about 3:30am. That is 6 hours people!!! Now if only I could teach myself to go to bed at 9:30 so I could really enjoy those 6 hours. He then eats and crawls into bed with me (bad habit I know) until around 8:30am. It is glorious and I'm hoping he follows in his brother footsteps and stays such a good sleeper.
He is really starting to coo at us these days. He LOVES it when you talk to him. He talks back and mimics my sounds. I've already got him saying "hey" well at least it's a noise that SOUNDS like "hey" but that's a step in the right direction! HAHA!
He hates being put down, but unlike his brother he is happy with ANYONE holding him. London only wanted me to hold him starting at about 6 weeks old. Holden wouldn't care if it was the bum on the street corner as long as he is being held. Over the holidays when our families were in town, I swear I went full days with out hearing him cry because people just kept passing him from one person to another. He was a happy camper.
He now weighs: 14lbs (Birth: 7lbs 2oz and 6 weeks: 11lbs 3oz)
And is 23.5 inches long (Birth: 18.5 and 6 weeks: 21in)
Here is his 2 month picture! (And London's too, just for fun!)
Holden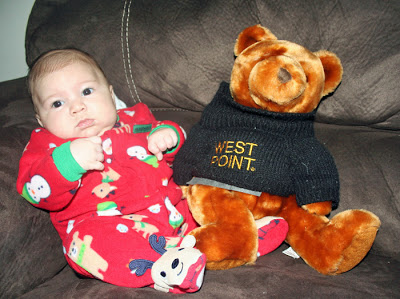 London